But before I sign out for a few days I figured I'd leave you with the most awesome Tomato Basil soup recipe. It was SO amazing. We can't get over it, might have to do it again this week :)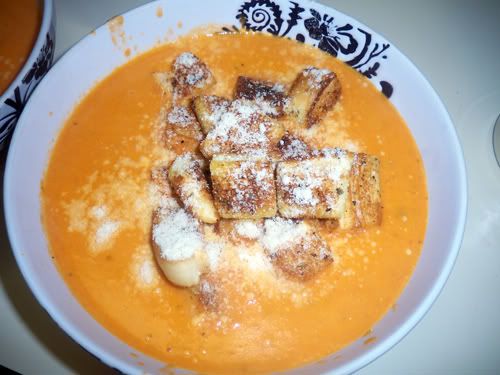 Very simple, I swear.
Melt 1/2 a stick of butter and a 1/4 cup of olive oil in a med casserole.
Add 2 med onions and diced garlic in it. Add a hot diced pepper, depending on how spicy you like it.
Let them sautee together
Add 1 large can of whole tomatoes (with basil), use a good brand like an organic one not a cheap one. I like this brand; Muir Glen organic. PLUS 1 can of small whole tomatoes. You can double the recipe if you want a lot of soup. This serves like 4 with no room for seconds.
Add a handful of fresh basil and like 1 tbsp of dried basil
Add 1 regular can of chicken broth
Simmer for like 15 min and then put all ingredients in a blender (do it small batches at the time, because it'll EXPLODE all over the place, trust me on this one)
Put blended mixture back on stove top, bring to a boil and slowly add about 1 cup of heavy cream. Bring to boil. I added like 1/2 a cup of grated Parmesan cheese this is when I taste it to make sure it doesn't need salt/pepper. Simmer until cheese is melted and then serve with fresh croutons and more Parmesan cheese or asiago on top.
It was soooo good, next time I'm going to double it so people can have seconds and I have left overs for work :)
I'm spending my first day of vacation watching Paula Dean and taking notes for Thanksgiving which is right around the corner. I'm baking a pecan pie and my girlfriend is taking a break from her kids and coming over for "tea".
Current Mood:

creative