Yes. I made fresh cookies, there's just something so simple and fantastic about cookies. I made 2 dozens, gave some as little gifts and ate some more. It's very simple, got this recipe from the cardboard off the Crisco package. I know... you're thinking OMFG CRISCO!!?? In the US it's a taboo to cook with lard however I grew up with my grandmother and great-aunts using lard to cook rice, meat, basically anything and none of us had any serious health issues. So whatever, I did it with Crisco. You can substitute the Crisco with butter, unsalted REAL butter. Just dont use Margarine. You shouldn't be using margarine to begin with, it's one of the most disgusting things on earth, one ingredient away from being plastic. So embrace butter.
Here is the recipe:
Ingredients
* 3/4 stick Crisco® Baking Sticks Butter Flavor All-Vegetable Shortening
* OR 3/4 cup Crisco® Butter Flavor All-Vegetable Shortening (OR 3/4 cup of unsalted butter)
* 1 1/4 cups firmly packed light brown sugar
* 2 tablespoons milk
* 1 tablespoon vanilla extract
* 1 large egg
* 1 3/4 cups All Purpose Flour
* 1 teaspoon salt
* 3/4 teaspoon baking soda
* 1 (6 oz.) package semi-sweet chocolate chips (1 cup)
* 1/2 cup of Toffee bits (you can get it in the bakery section or you can crush Heath bars, works the same)
PREPARATION DIRECTIONS:
1. HEAT oven to 375ºF.
2. COMBINE shortening, brown sugar, milk and vanilla in large bowl. Beat at medium speed of electric mixer until well blended. Beat in egg. Combine flour, salt and baking soda. Mix into shortening mixture until just blended. Stir in chocolate chips and nuts.
3. DROP by rounded measuring tablespoonfuls 3 inches apart onto ungreased baking sheet. (I greased it with butter, sorry recipe!)
4. BAKE 8 to 10 minutes for chewy cookies, or 11 to 13 minutes for crisp cookies. Cool 2 minutes on baking sheet on a cooling rack. Remove cookies to rack to cool completely.
And it was yummy! I made little goody bags and gave some to my neighbor and to my friend and her husband with who we went for drinks last night. He especially loved it. ;)
Now I'm off to make us some hearty tomato basil soup before we head out to the pumpkin patch!! (OMFGPUMPKINPATCHNERDATTACK!)
Current Mood:

energetic
My favorite sort-of-ghostly poems:
The Highwayman
by Alfred Noyes
(
Read more...
Collapse
)
and for another one...
The Unquiet Grave
Anonymous
(
Read more...
Collapse
)
Yesterday for the Jersey Shore reunion our party was smaller but our appetites were just as big :) I made a variation of stuffed shells and - wait for it - BLOODY CAKE!!
Pictures, pictures!!
For the stuffed shells I followed this recipe from Giada (aka. skinny bitch that can cook)
Shells with Crispy Pancetta & Spinach
And here is the result. It was fantastic, I'm having the leftovers for lunch =D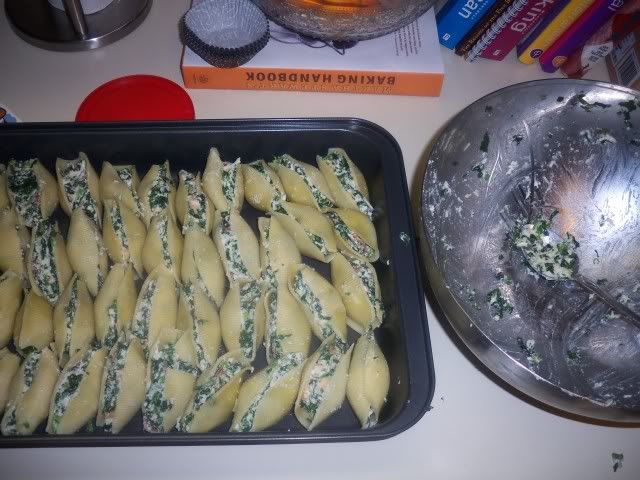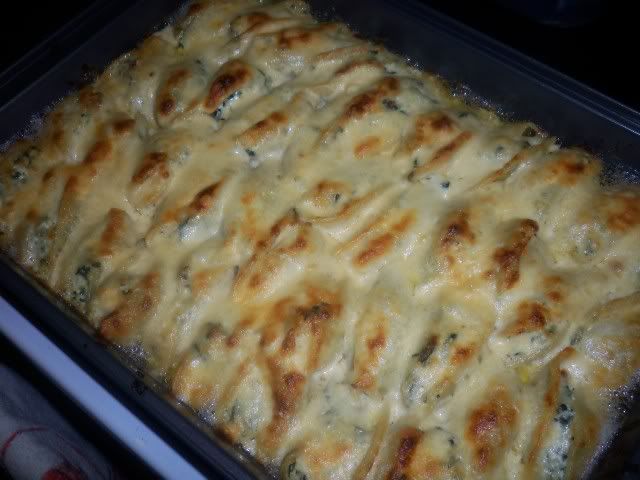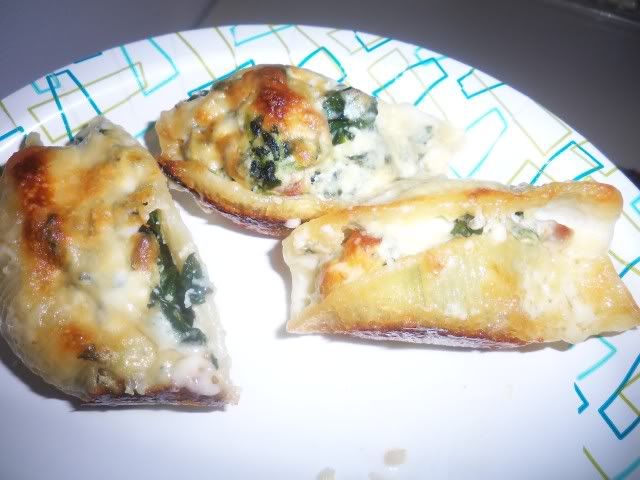 And now for the
BLOODY CAKE
!!
Because I had another box of red velvet mix from my previous adventures in the world of mediocre cuisine - aka.
The Cake Balls
and I needed an excuse to use and abuse my new box of food coloring I bought from
Amazon
(these things are AMAZING), plus I had these ghostly sprinkles I had scored at Ross some weeks ago for like $1.50 in clearance I was able to pull this off. Made two cakes in square pans and I did a large batch of cream cheese frosting - recipe
here
. I split the frosting in two, colored one half bloody red by mixing some red and black and I made one charcoal by just adding the black alone. I added the dark red between the two cakes and I covered the cake in the charcoal, sprinkled the little orange ghosts on top and VOILA! The cake bleeds delicious cream cheese frosting. Masterpiece.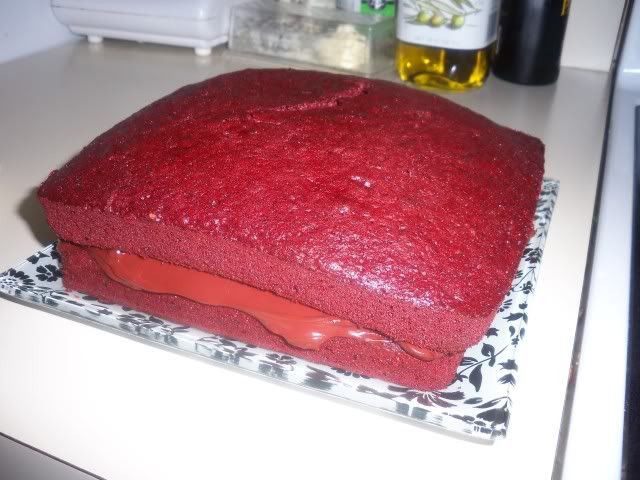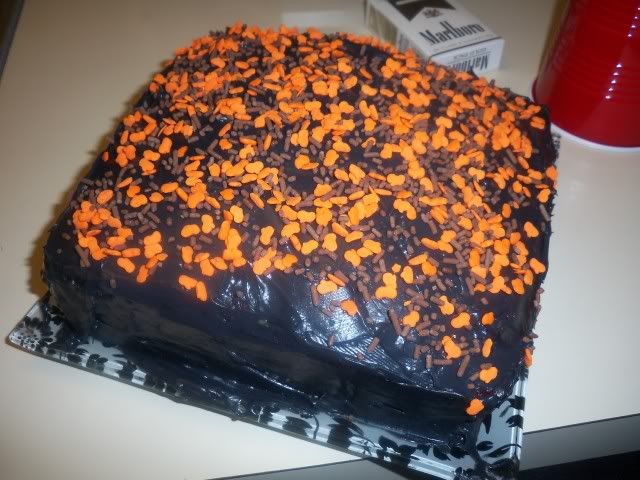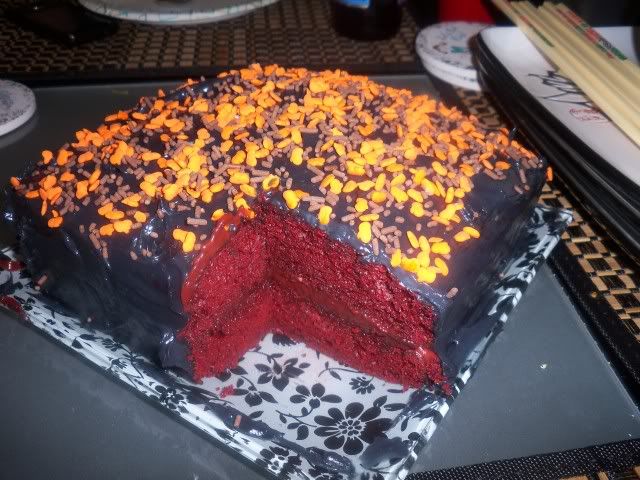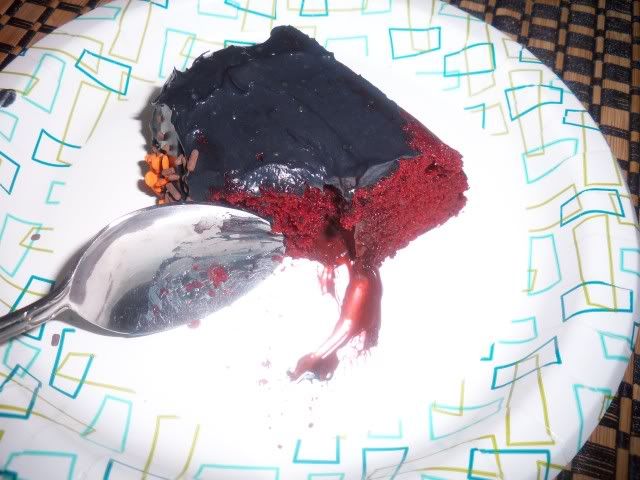 NOM NOM NOM
I wish everyone a Happy Halloween! A preview to my makeup for my costume. Guess who I am? :P
In honor of Halloween I bring you this post.
Current Mood:

excited
But I wanted to show you all what I did for her b-day. Instead of baking her or buying her a cake, I made cake balls which are, honestly, some of the best stuff I've ever put in my mouth. ;)
Food porn!!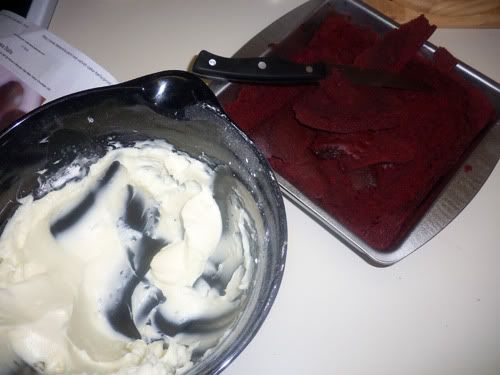 Baked a from the box red velvet cake and made some cream cheese frosting, the recipe is here http://www.frostingrecipes.net/easy-creamcheese.html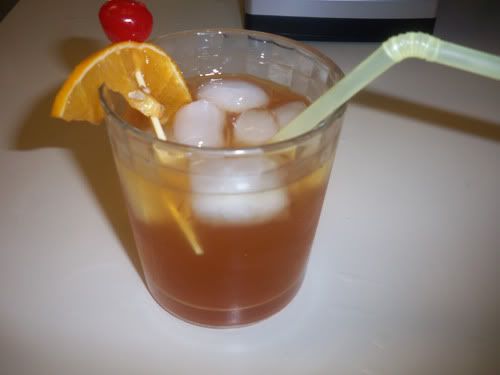 Paused to make myself an Amaretto Sour =D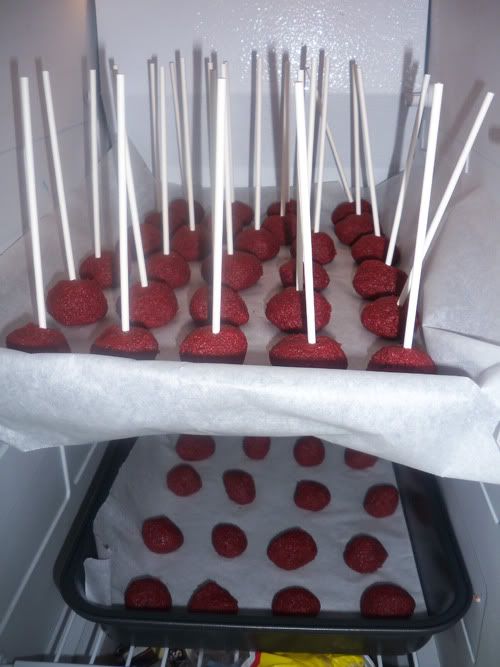 You have to crumble the cake and mix in the frosting and roll the mix into balls. This mix is so awesome that I ate it on its own =/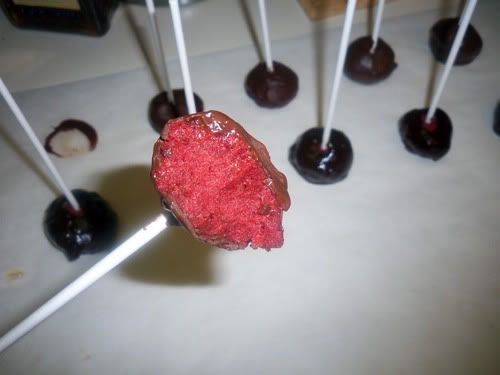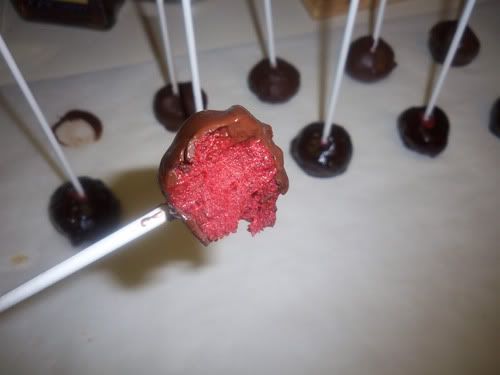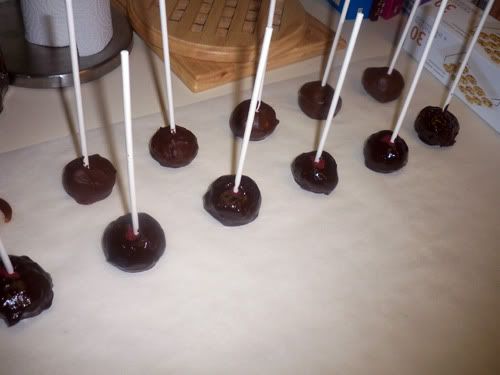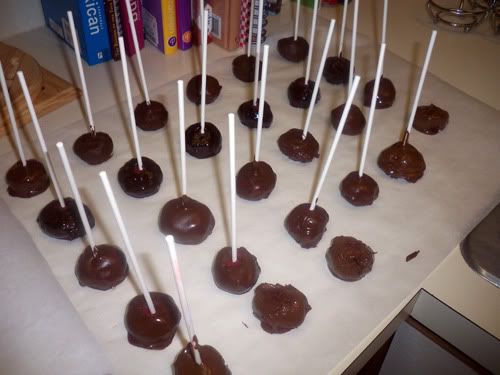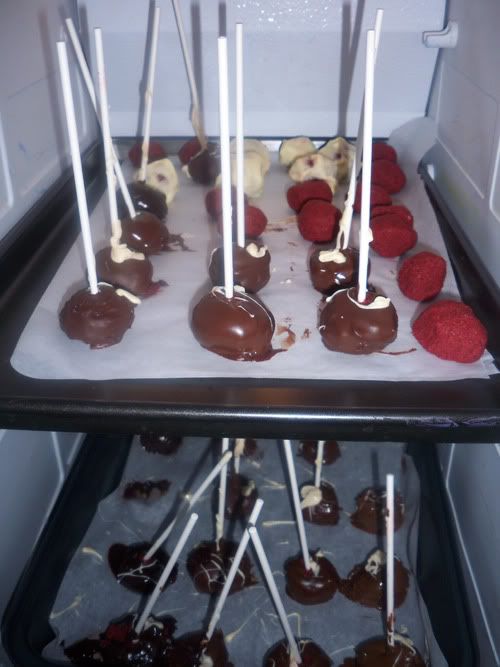 Dip into melted chocolate and VOILA! Get creative! :)




Here is the formal recipe:
Mine are not as pretty as hers but that's OK, I can try it again :)
http://www.bakerella.com/red-velvet-cake-balls/

It's my roommate's 30th bday today and I've made her something special. We're going to be celebrating for 2 days so I should be properly exhausted by Sunday :)
Current Mood:

tired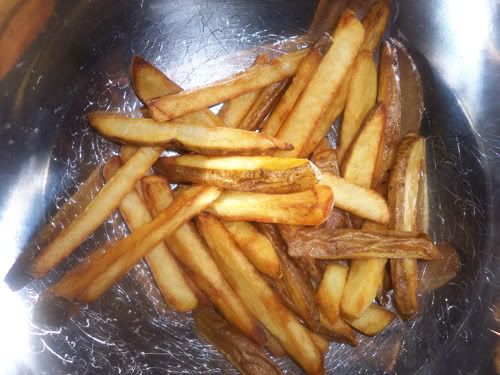 The best homemade French fries. EVER.
So I found a new little obsession and that is Chef John's youtube channel called
Food Wishes
, I tried doing last night his recipe for
French Fries
and I must say that it was AMAZING. I tossed them with some homemade seasoned salt and spicy garlic ketchup and they were devoured. Perfect period food, a bit time consuming but really awesome.
That's all my cooking right now... I say this as water boils for my cajun boiled peanuts... but nevermind ;)
This has been one of those weeks when I can tell you it's been at least days before I've turned on my computer.
The good: "Pillars of the Earth" was AWESOME, "Entourage" was AWESOME (OMFG, Eric/Sloane = LOVE, they're engaged!), I didn't break a leg bowling (YAY) and things are not bad with the doctor. He was over last night and I got minimal sleep but still surprisingly relaxed...
The bad: All this socializing has left me on the broke side of things, I've hardly shopped! =/ And I am quite tired. I think tonight since Mr. Doctor has a night shift I will be catching up on my Zzzzsss
I can't wait for tomorrow's Jersey Shore party!!!
Current Mood:

tired
Rating: 4/5
Conclusion: The perfect date-night flick
Katherine Heigl lost me as a fan when she became a diva and ruined my Alex/Izzie ship. I felt I needed to express that before I reviewed because it'll explain my over-praise of Josh Duhamel whom I think is just yummy and fabulous. First off this is totally a movie for both girls and guys and I promise you it will put you off children. My nerves were raw and I couldn't take the crying over and over. That aside I went to watch this film last night having little to no expectation of it and I was pleasantly surprised.
The premise is that the neurotic, controlling, anal, and bitchy girl (how typical, right?) has to team up with the womanizing, egocentric, relationship-phobic, Lothario guy (even more typicalness!) in order to raise the baby they're both godparents to when the parents die. Basically the baby's mom is Holly's best friend and the baby's dad is Messer's best friend. I think you can tell it'll be a pretty good film when they both have to deal with the sudden death of their best friends. Holly works with charts, plans and a schedule and she dreams of finding a perfect white bread nice guy to settle with. Messer on the other hand is all too happy to bed as many women as he can in a day, kick girls out of his bed the very next day and smirk as he does it.
The baby naturally throws everything to the wind. The baby doesn't fit in Holly's well planned plans and she totally kills Messer's social life. They end up living in the house their friends left because the mortgage is covered so that alone brings some laughs. Despite them innitially believing that they're quite different they end up realizing that they're actually quite alike; they're very loyal to their friends, they both love the baby and they understand and begin accepting one another just as they are. It progresses nicely, my personal favorite parts include when Messer starts realizing that he likes her when she begins dating "the perfect guy".
It's got it's very sweet moments, sad moments and honestly hilarious moments. I have to say that the highlight of the film is the neighbors who include the very awesome Melissa McCarthy which a lot of people will recognize her as the original Sookie from Gilmore Girls. She's absolutely FABULOUS and hilarious! Josh Duhamel is amazing as a self-centered playboy who drinks too much and drives a motorcycle and suddenly falls for the girl he least expected. I've always though Katherine was a great actress. I just dont like her. The few shots of the stunning Christina Hendricks were not nearly enough, she's too gorgeous for words, I was sad that we didn't get enough of her.
So if you want mindless fun movie that will please a crowd check it out just be warned that you will leave the theater thinking "I NEVER WANT KIDS!"
Current Mood:

chipper
I had to do an emergency trip to work to Washington DC and I arrived back late last night but I had taken a 5hr energy drink and was super hyper, got to watch Jersey Shore last night. I'm also enjoying Modern Family which is surprisingly hilarious, I love Sofia Vergara, she reminds me of my cousin. I was VERY dissapointed with "Dark Blue" this season, I dont know what it is about TV writers sometimes they just loose it along the way. Except for "Entourage", I am enjoying that as much as always. I love my boys esp Ari.
I am enjoying a mini-series; "The Pillars of the Earth". I'm halfway through it and it's surprisingly good though a bit psychotic; the mother/son romance has left me smoking and grimacing.
I do not have a boyfriend but I am "seeing" someone; he's a doctor in residency and tonight a big group of us are going bowling so my friends will get to meet him for the first time tonight. Let us see how this goes. Since I dont want a boyfriend this doctor in residency works out well for me since he's the one person I know who works more than I do. Workaholics anonymous!!
I hope everyone is enjoying their October, I have my costume all set for Halloween; I'm going to channel Elizabeth Taylor this year and be Cleopatra, Queen of the Nile :)
Book I'm reading: Sphinx's Princess by Esther Friesner, a very nice easy read that takes my mind off the craziness that is work right now :)
On a side note:
TGIF!!!!!!!
Oh little livejournal, I've had you since 2002. Eight years later I often forget I even have a livejournal. I forget to update you or I get home too tired from work to update you.
Current Mood:

thirsty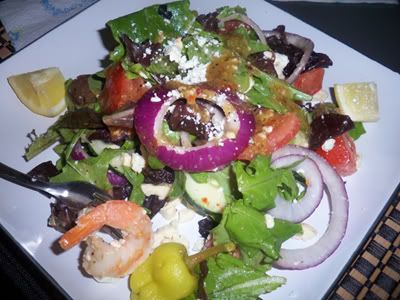 Shrimp Greek Salad
Ingredients:
A dozen shrimps, peeled
Lettuce, enough for a 2 full servings
2 med tomatoes
1 cup of crumbled feta cheese
1 small red onion
1/2 a large cucumber
1/2 a lemon
4 pepperoncinis
Good Seasons Greek Vinaigrette
Season the shrimp with salt, pepper & some lemon and just grill.
Toss the rest of the ingredients together with the grilled shrimp and add as much dressing as you like. Simple and AMAZING.
I just did this for lunch and me & my roommate and we were very satisfied.
Current Mood:

creative
We took the old chandelier that had come with the condo and spray-painted it black to make it look updated and slick. We also found this old mirror in the store closet left over, we also spray painted it black and now - BAM. Love it! I've ordered some black & white prints for behind the couch so I can't wait for those to arrive!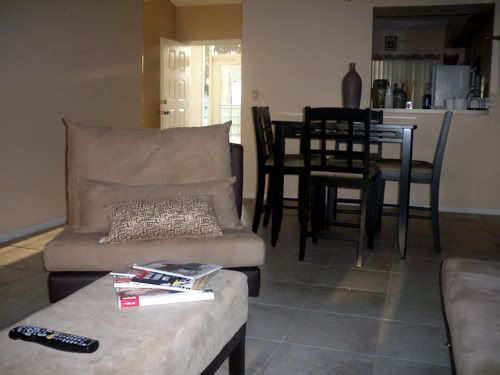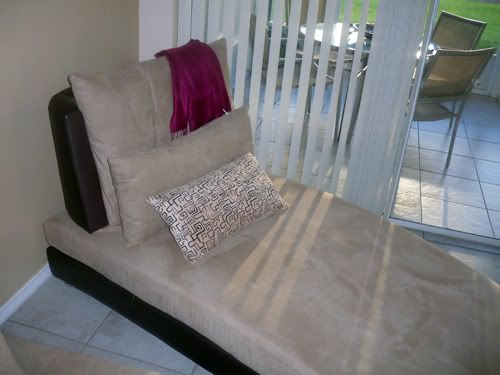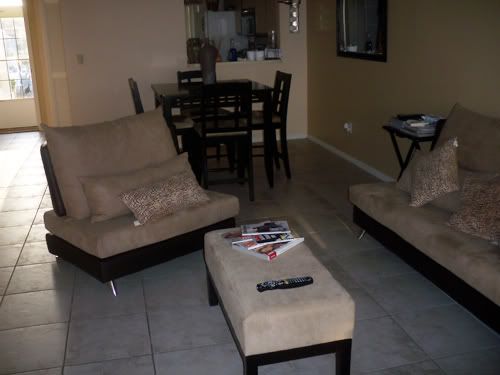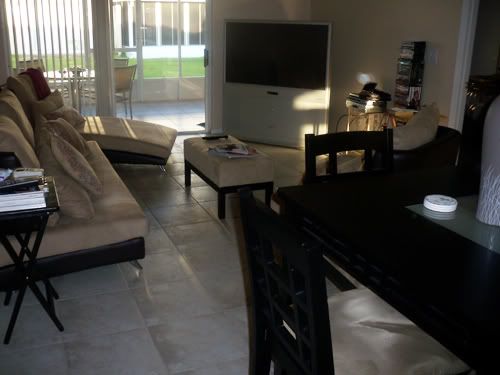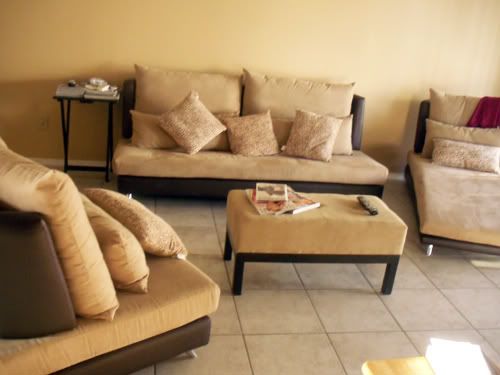 I will be traveling this whole week, it's going to be a bit crazy because I'm training an entire group of girls, hopefully they'll catch in quick.
On the boy front... I'm kinda seeing someone but I refuse to get into a relationship. The good thing, he's a doctor. No more broke boyfriend; that just didn't work for me. The bad thing; since he's still doing his residency he works like 70 hrs a week which works out well for me when I'm traveling but when I'm not it gets tiresome. So we're keeping it casual.
I'm a bit tired but I hope the sleep the hell out of my trip tomorrow; now I've got to paint my nails and catch up with House Hunters, which I'm EXTREMELY addicted to ;)
It seems that we're slowly settling in to our new home, the furniture is all here. We're still missing some things, like accents and wall art but for the most part the living area is set. Our next project is the kitchen, we're re-surfacing the cabinets and updating the appliances so that will be a huge project on it's own. But meanwhile, the living area looks awesome =D
Current Mood:

jubilant
On Labor Day weekend (last weekend) my friends and I made a trip to St. Augustine, had loads of fun and came home tired. Here are some pics: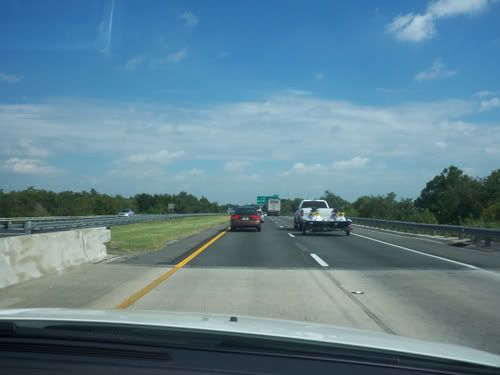 On the road again. It's a 2hr drive from Orlando.





(

Read more...Collapse

)
And that was it for the most part. We didn't make it home until like 12, it was sad. I passed out.
Speaking of passing out, Glendi and I watched "Going the Distance". Mediocre movie but we totally got smashed during it, kept buying beer, lol, so I think we laughed louder than most of the people in the theater (which was nearly empty). By the time I got home I was walking sideways and hiccuping. I still dont know how my heels ended up in the kitchen or who had broken into my box of Special K with berries and ate all the berries. =/
Aren't you guys proud? Three posts in a weekend, that's legit right there :)
Current Mood:

tired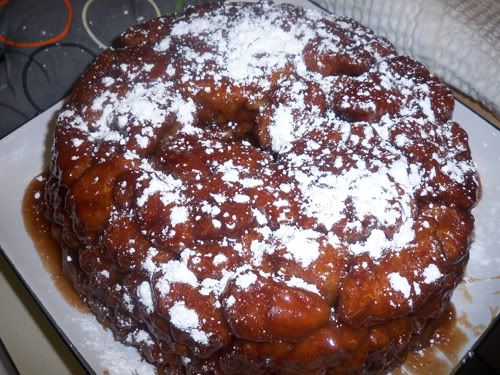 Yes, dessert is always THE BEST! I made this for our weekly Jersey Shore party where upon placing it in the coffee table it was absolutely ATTACKED, VIOLATED AND DISMEMBERED! I was lucky I got this picture of what it was before (especially my brother) gulped it down.
I researched a lot of recipes for this but finally came to one that I adjusted for what I liked. I should warn you all, I didn't measure... I was doing it all by eye.
Ingredients:
- 4 cans of refrigerated Pillsbury's biscuits (they're at Walmart for like less than $3, for the pack)
- 1 3/4 cups of white sugar
- 3 tablespoons of Cinnamon
- 2 sticks of butter or 1 full cup (REAL BUTTER, PEOPLE!!)
- 1 teaspoon of vanilla
- 1/4 brown sugar
Melt the butter and add the 3/4 cup sugar and 1/4 cup brown sugar and vanilla - bring to a light boil (or you can microwave the hell out of it) Put the liquid mixture to the side.
Mix one cup of sugar & the cinnamon - dip cut up biscuit sections in this and arrange in a heavily greased bundt pan. I paused half-way through and poured some of the liquid mixture over it, then layered the rest of the biscuits on top. Pour remaining cin-sugar mix on top and the rest of the liquid mixture.
Bake at 350 for 45-50 minutes.
I should warn you, place your pan on top of a cookie-sheet or something because sometimes it spills over and this will prevent a gooey mess in the bottom of your oven.
You have to flip IMMEDIATELY so please be careful when doing it, dont get burnt. Flip onto a large plate, be careful the liquid caramel will be all over the place so do this over your sink. It'll look majestic when served, dust some powdered sugar on top for presentation. If you have kids this is a fun thing to do with them, I think I'll do this with my goddaughters when they come over next time.
This is also a GREAT breakup food, ngl.
And now gif love for those of you who also love watching Vinny/Snooki on JS.
(
Read more...
Collapse
)
Current Mood:

content