The Holidays are a skip and a beat away and I'm so in the mood, you dont understand. I have this entire week off which I'm supposed to clean and work on my writing. Let us see where this takes me. I'm excited because Vanessa & Robert (my cousin and her husband) will be staying with us for the Holiday and V and I get along like peas and carrots. I'm close to all my cousins but Vanessa is the closest to me in age, she's fabulous so I'm excited that we'll be together for a few days. My ex and her husband are best friends so that's going to be interesting when the boys want to hang out, I'm hoping they take it elsewhere.
Anyways, I'm excited about Thanksgiving I have a lot to be thankful for most especially for the best roommate this side of the Atlantic, she really is. She lets me play in the kitchen and eats everything I make, she doesn't cook so it works out well for us! Last night I went into a frenzy... I needed to make my sweet potatoes before they went bad. So I pulled out a pork tenderloin (thank you, God for pork, sfm) and conjured this up. May I say (without being conceited) that it was AMAZING. We're having left overs tonight - yum yum!
Ok, pics -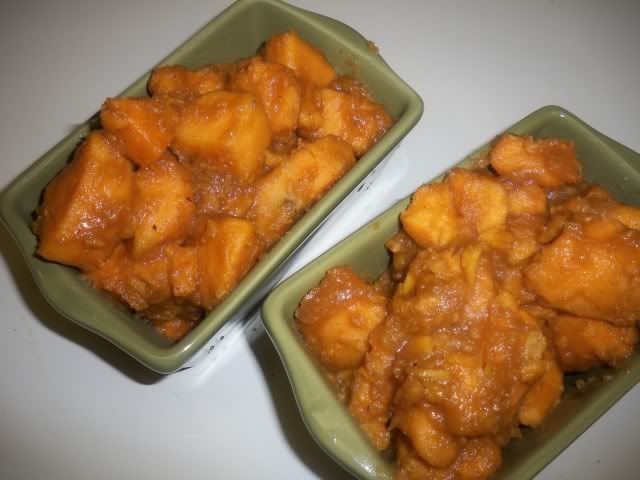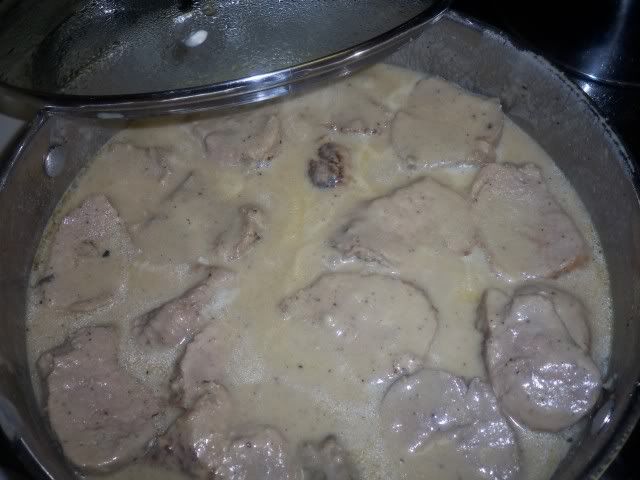 I made Pork Tenderloin in a Beer Cream Sauce & Sweetened Sweet Potatoes. Yeah, delish. But wait - that's not all! I also made a Flourless Chocolate Torte. It was sinful.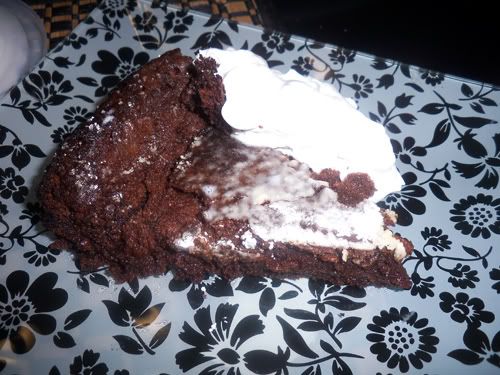 Yeah....
So recipes!!
Ingredients:
Pork Tenderloin
1 cup of Heavy Cream
5 Cloves of Garlic
Mushrooms (optional and of your choice)
Garlic Powder
Dried Oregano
2 Med Onions, whole
2 Bunches of Green Onions
4 Leaves of Culantro (can use fresh Cilantro, a handful)
A handful of fresh parsley
1 Green Bell Pepper (sliced into large parts)
1 Yellow Bell Pepper (sliced into large parts)
Olive Oil
A light beer (I used Michelob Ultra, but I'm sure any would do)
A rue (flour + water)
Directions
In a mortar mash the garlic, 1/4 tsp of salt, 1/4 tsp of pepper and 1/4 tsp of garlic powder, add a little bit of olive oil to make into a paste. Take paste and rub well on pork tenderloin until well coated.
In a roasting pan or a lasagna pan add the mushrooms, onions, culantro (or cilantro), parseley, and peppers. Sprinkle some salt, pepper, garlic powder and a little olive oil over it, toss all veggies together so that they're coated. The salt helps the flavor run out of them and into the pan drippings you're going to use.
Preheat oven to 350 degrees
In a large pan on Med-High sear the pork tenderloin. For maximum effect do not add the meat until the pan is HOT. Sear loin on all sides. Dont worry about the bits stuck in the bottom of the pan, you're going to use these for the sauce. Remove loin only golden brown and place on top of veggies on the baking pan. Bring heat of pan down to med-low add 1/4 cup of water to it and the entire beer. Let it sizzle a bit and scrape the yummy bits stuck to the bottom of the pan with a spatula, scrape well. Once it's simmered for 5 min or so add the entire liquid over the pork roast and the veggies. Cover pan with foil and roast in oven for 25 min - 30 min depending on the size of your roast. What you're looking for is that it's still pink and raw in the very middle. Like an 1 1/2 of uncooked meat inside.
Remove from oven, carefully remove the loin from the pan and set aside. DO NOT SLICE YET. You need the meat to set, slicing it too soon will make all the juices run out and you're left with a not-so-tender tenderloin.
Remove all the mushrooms, if you added any and place on the side also. Now strain all the liquid from the pan, you dont want all the veggies and herbs to get in your sauce. Pour all the liquid into the same pan you used to sear the loin. Bring to a simmer on Med-High. Add heavy cream and keep simmering. Taste. If too bland add salt, pepper and garlic powder. If too salty add more water until the taste is right.
Slice the tenderloin into thin slices and add to the sauce so that it finishes cooking. Add the mushrooms also. The sauce should not be too thick, you're going to thicken it now. Once the meat is look (no longer pink) you're going to make a rue.
A rude is made in a cup, add 1 part flour, 2 parts water. Usually I add 1 tbsp of all purpose flower and 2 tbsp of water. Mix well and whisk the white water mixture into the liquid. It will thicken, if it doesn't do another rue until it's as thick as you'd like it.
I know it's complicated but it makes for a good Holiday dish that will impress the mother in law or your own mother :)
. Peel and dice them and boil them until just tender enough. Drain. In a pan add brown sugar, 1/2 a stick of butter, a pinch of salt and cinnamon, I also like to add a pinch of freshly grated nutmeg. It's got a nice Holiday feel to it. Toss the sweet potatoes in mixture, taste to see if they need more sugar etc. Then serve, true Holiday classic.
Now for the flourless cake... I got it all from my new TV girlfriend Laura Calder, check out her
Craggy Chocolate Cake
. It's great for those of you who are living a gluten free diet since it's got no flour. And may I say, bless you all cause I dont know what I would do in a gluten-free world. I <3 Gluten.
Now... how many more days till Harry Potter?? We're having a Harry Potter marathon this weekend, I'm sooo excited! Yiyi said I could start decorating the house next weekend for Christmas. I know it's premature, but you know? So what?
OH HAPPY DAYS!!!
Current Mood:

geeky